How can we help you?
I can't send/receive emails from my mail client/phone.
Some account packages come with access to IMAP/POP/SMTP, which allows them to be added to an Email Program or App. If you are unable to send or receive emails from your Account on an email program or app, please follow the troubleshooting steps below.
Check your account package
If you are repeatedly informed that your username/password is invalid despite it being entered correctly, it could be that you have an account without IMAP/POP/SMTP access.
You can find out if your account has this enabled by logging in to the My Account dashboard. If you click on Email Accounts on the left, you will see details of your email account and what Package it is currently using. It will also list if your account has access to IMAP/POP/SMTP.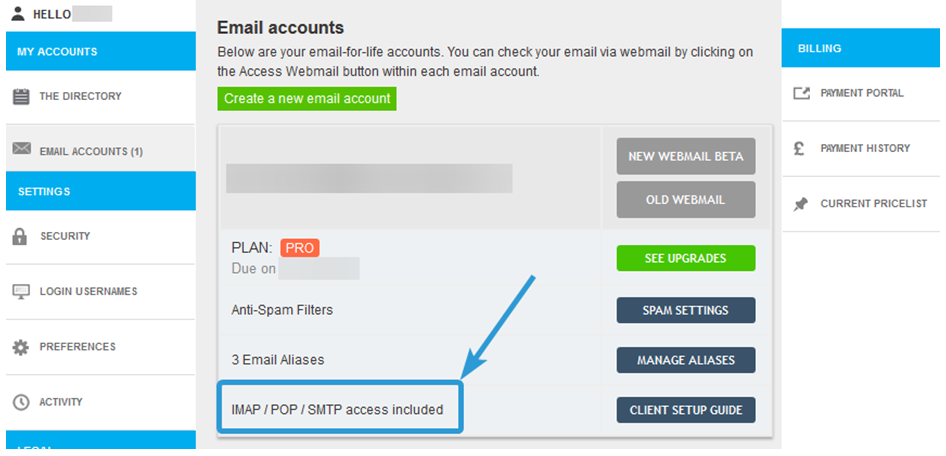 If you do not have access to IMAP/POP/SMTP, it will be shown as Webmail access only:

If you wish to upgrade your account to include this feature, you can do so by clicking on the See Upgrades button on the same page.
Check the settings of your email program or app
If your Account is set up with IMAP/POP/SMTP access, you will have to check the settings for your Account in your Email Program or App. If you are unable to find where these settings are, please refer to the help guides that came with the Email program or app you are using.
The settings will need to be set up as follows, depending if you are using IMAP or POP, and if you wish to use Secure or Standard connections: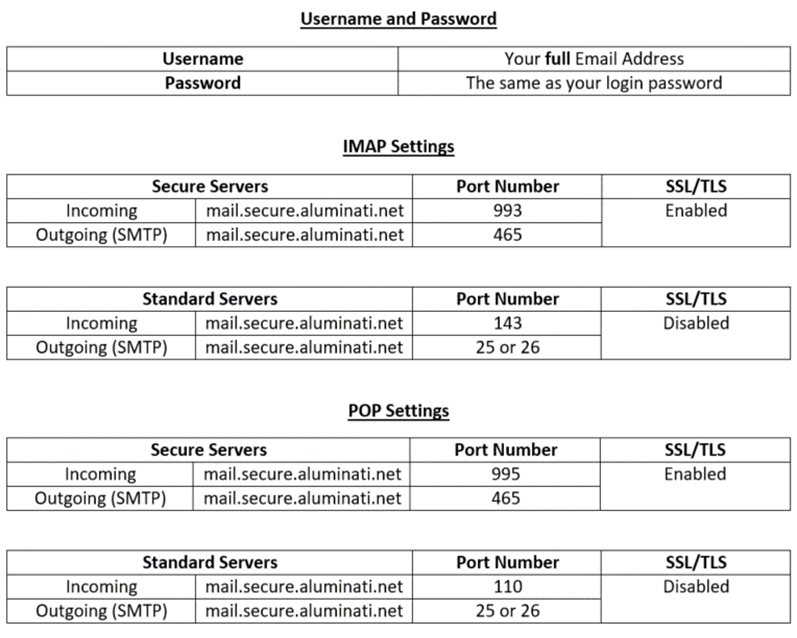 Check username and password fields even where 'optional'
In your client's account settings, you need to make sure the username and password are filled in even if it says the information is optional. You will need to enter your full email address in to the username field.
Change port number 
If you can receive emails but are unable to send them, check your outgoing server settings. If the port is 25, try changing it to 26. Some ISPs block port 25 to try and cut down on the amount of spam sent from their networks. Changing it to 26 usually circumvents this, though in some instances port 26 will also be blocked, and port 587 should be tried instead.
Please refer to the settings above for details of the different configurations that can be used to set up your email address.
Contact us 
If none of the solutions here have worked for you, please contact our helpdesk at help@aluminati.net with your email address, the full error message you are receiving, and as much information as possible about what issue you are experiencing.